Short-eared Owls in the Bonifica del Mezzano (FE)
by Guglielmo Dell'Oro
February 23, 2015…
After a few days of heavy and persistent rain, a decent weather window opens up, so I think this could be a good afternoon to do some BW and watch "our Short-eared Owl" and so we leave. At 4:00 pm Ivana Petrucci and I are already on the spot and immediately identify three of them in reconnaissance / hunting on a loose flight; while in the distance towards the south we most likely observe a fourth individual. We observed them very well in full trophic activity until sunset (about 18.00). Interesting was both the duration of the observations and, above all, the interaction of a SEO with a young female of Marsh Hawk Circus cyaneus, a Hooded Crow Corvus cornix and a male Kestrel Falco tinnunculus. With the marsh hawk there has been a classic chasing on the grass over the uncultivated for a few minutes, with the hooded crow, however, only a quick demonstration of attack of 1-2 minutes at most.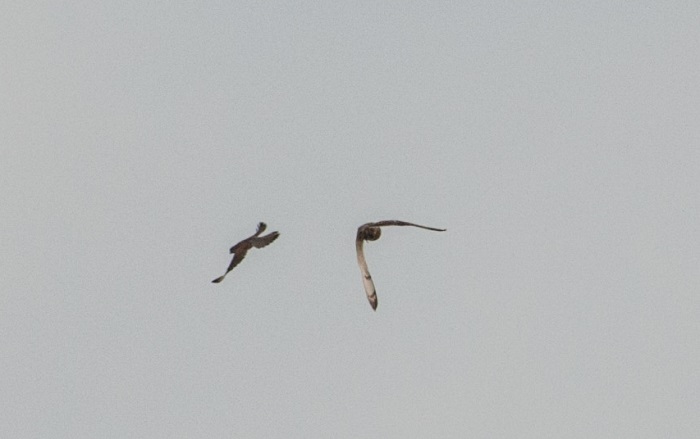 © Photo by Ivana Petrucci
The show instead was with the kestrel: an owl had preyed what, apparently, could be a large insect (like Gryllotalpa gryllotalpa) when, at some point, the kestrel has passed close to him very fast in flight grazing and the owl, with its prey in its paw, began to chase it. The "two" moved on a spiral trajectory, thermal type, up to a considerable height (at least a hundred meters), during the chase the SEO fed in a similar way to that of the Red-footed falcon Falco vespertinus with dragonflies and eventually disappeared into the low clouds. Later we reviewed all 3 owls again on the hunt.
Thanks to Guglielmo Dell'Oro & Ivana Petrucci for information and photo documentation.